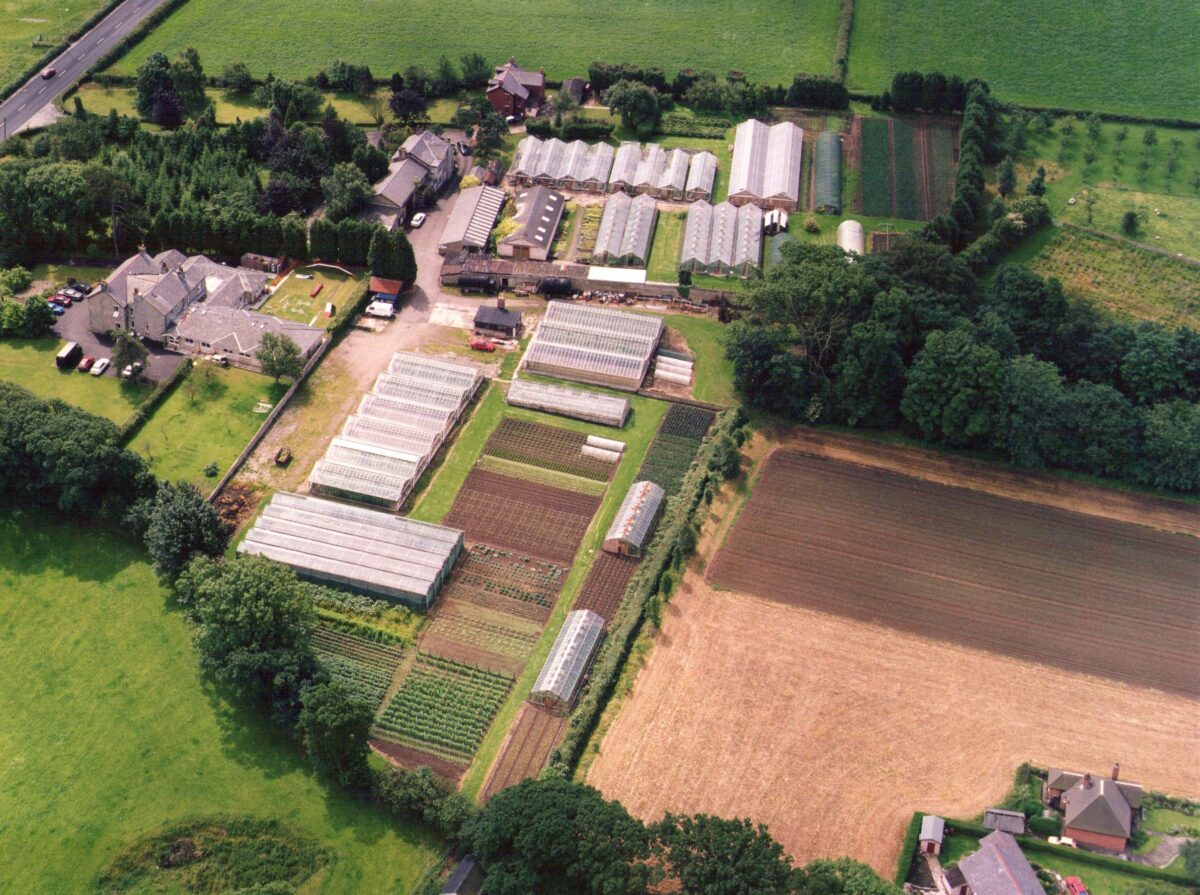 Welcome to our new web site. We hope you will enjoy the changes.
On these pages we can update all what is going on at the nursery and keep you up to date on the seasons growing.
We hope that 2021 is a better gardening year for the exhibitors and visitors to the shows up and down the country. For updates on the shows we are attending and dates see News about our Shows.
Gardening has been a lifeline during the lockdowns with many trying 'Grow your Own' for the first time. As we have always said, each year is different, so never be put off by a bad years results. There is always next year, gardeners are optimists. There is always our facebook page to check for daily updates and each monthly mail shots for more information on growing month by month.
There is a Chinese saying which says:
To be happy for a short time; get drunk, happy for a long time; fall in love, happy forever; take up gardening.
Nature is not stopped by a pandemic.
As always the nursery is open for the collection of all your vegetable plants as the season progresses, there is still lots of time.
Available now at the nursery we have
Winter cabbage, autumn planting onion sets, full range of Garlic.
 plus our range of seeds.
 Opening times for September
Monday to Friday 10am to 4pm.
Saturday and Sunday CLOSED.
The nursery is now closed for visitors to walk round as we are seed harvesting.
As COVID-19 continues, we are committed to following the advice from the experts to deliver the highest standards of safety and hygiene for our staff and customers.
We regret we cannot send any seedlings or plants to Northern Ireland or the EU. 
The 2022 catalogue is now available to download from the website, just click to download. For all previous customers a catalogue will be sent via post later in the month, unless requested not to receive one.
Jobs for September here in the UK
Dear Gardeners,
September is here, and there's plenty to be done while you're outside enjoying the last of the year's warmth. Harvesting crops will keep many of you busy this month. There are some vegetables which can be sown now for overwintering. They will mature next spring, giving you valuable harvests at a time of year when not much else is cropping.
Jobs for September:
Now is the time to lift and put into store all onions. Remove the onion tops as soon as they are lifted, this helps them to dry well and store better. Squashes can be cut and stored for use over the winter months, make sure the skins are hard before putting them into store. Root crops for winter storage are not ready for harvesting until late September at the earliest.
Sow winter lettuce such as Winter Density or Marvel of 4 Seasons, winter hardy spring onions, perpetual spinach, chard, kohl rabi, turnip, radish, as well as all the oriental salads (rocket, pak choi, oriental salads, etc).
Spring Cabbage can now be transplanted into the final position.
The autumn planting onion sets and garlic are now available; these are best planted during September, October and November as long as the weather holds out.  As onions and vegetables may be in short supply again this year, take the opportunity to make use of any spare ground over winter. We have many different varieties to choose from. Check for details.
Garlic needs a chilling period so is best planted in late autumn or early winter. However some cultivars can be planted in early spring. On heavy, wet soils, you can start them off in modules in a cold frame before planting out in spring. Plant individual cloves so the tips are 2.5cm (1in) below the soil surface. Space 15cm (6in) apart and in rows 30cm (12in) apart.
Rhubarb crowns are best planted when dormant between late autumn and spring. Prepare the ground by digging in two bucketful per square metre/yard of well-rotted manure, and then spread out the roots and plant so the tip of the crown is just visible above the soil. We have several varieties to choose from, some will mature at different times giving continuity of cropping.
Blight has been a problem this year, the spores are air borne and can travel a distance across any allotment site, affecting both tomatoes and potatoes. Do not compost any tops and make sure all supporting canes are either destroyed or sterilized before using again.
Summer green manures
As soon as you have harvested and cleared a bed you should consider replanting it or sowing a green manure crop.
Soil should not be left bare for prolonged periods.  In nature you will never find bare soil unless it has turned into a desert.  After a fire plants such as rosebay willowherb will quickly recolonise the ground.  A bare soil is bad for the soil structure, the soil life and it will quickly lose its nutrients.
Anytime your beds are empty and you don't have any follow on crops ready, you can sow a green manure crop.  All you do is to prepare a nice weed free seed bed and sprinkle (broadcast) green manure seeds at the recommended seed rate onto the beds and rake them in.
A favourite summer green manure is phacelia.  The German name for this plant is 'Bee's Friend'.  It's a fantastic and very pretty plant that attracts a myriad of beneficial insect including hoverflies, lacewings, beetles and obviously bees.
The purpose of a summer green manure is to quickly cover the soil and the growing plant will absorb and use the available nutrients that are still in the soil and thus prevent them from being washed out.  A green manure should ideally be dug into the soil just before flowering, but with phacelia you have to make an exception and let it flower.  It will be slightly less beneficial for the soil but absolutely fantastic for wildlife.  Studies have shown the massive increase of carabid beetle populations under a phacelia crop and these beetles eat slugs!
Aphids and Whitefly can still be a problem especially in more sheltered gardens and in a tunnel.  Watch out for ladybirds or hoverflies as they may already control them.  If aphids are a big problem they can be sprayed with pyrethrum or soft soap, but both sprays will also harm ladybirds.  Aphids can also be washed off plants with a strong jet of water.  Keep checking your brassicas for caterpillars' the Cabbage White butterfly is still around.
Our new 2022 catalogue will be available by mail order later in the month; all customers should receive a copy. It is available to download from the website now. As one season closes the next one starts, our new season seeds are now available.
We shall have good stocks of onion sets and garlic with us at the Malvern Autumn Show on September 24th, 25th and 26th our last show of 2021 which is as last year using outdoor booths with a small outdoor display.
For all up to date day by day info, check out facebook page.
W
h
atever the r
est of year brings,
Good gardening
The Robinson's
Below is a guide for when to feed vegetables which we hope will be of help.
GENERAL RULES FOR FEEDING VEGETABLES.
All root vegetables…..  Never. If the ground is correctly prepared.
Brassica……    Never. If the ground is correctly prepared
Chilli Peppers….. When the fruit has started to set and swell well, never feed too early.
Courgettes, Marrows and Cucumbers…… When first picking starts.
Onions and Leeks……. Never. If the ground is correctly prepared.
Onions and Leeks for exhibition……. Never. If the ground is correctly prepared.  However they respond to a feed of Nitrate of Soda if a burst of growth is needed.
Peppers and Aubergines…….. When fruit is golf ball size.
Tomatoes under glass……. When the fruit on the first truss is pea size.
Tomatoes outdoors…….. When the fruit on the second truss is pea size.
NEVER FORGET PLANTS DON'T HAVE TEETH, THEY DO NEED WATER TO TAKE UP THE NUTRIENTS IN THE GROUND!  ALWAYS WATER THE GROUND WELL IN HOT DRY CONDITIONS.
W Robinson & Son (Seeds and Plants) Ltd
'The Home of the Mammoth Onion'
Sunny Bank, Forton, Preston PR3 0BN
01524791210
www.mammothonion.co.uk         info@mammothonion.co.uk
facebook.com/mammothvegetables